371cc Breast Augmentation for Patient B
This is a continuation of an addendum to the post 'Breast Augmentation with 371cc Breast Implants.'  I will discuss how I selected the 371cc breast augmentation for patient B.  Breast implants come in many different types, shapes, sizes, and profiles.  Proper selection of the breast implant is just one component in optimizing results for breast augmentation.  Selecting the proper implant to achieve your goal size is extremely critical.  However, there are many different breast implant profiles for a given implant volume.  As a surgeon, I must select the proper volume, shape, and profile to give you the best results.  Fortunately, there are usually more than one breast implant choice that can give similar results. Patient B is 5'3" and weighs 125 lbs.  The Vectra Imaging System breast assessment shows some mild asymmetry.  The breast volume and breasts width are minimally larger on the left.  Her other measurements are similar.  For her breast augmentation, I did not feel it was necessary to use different sized breast implants. She has moderate amount of existing breast tissue.  She lacks most of her breast volume in the upper part of her breasts.  Silicone gel filled breast implants are ideally suited to fill the upper pole volume.  Saline filled breast implants are more likely to collapse and are less effective in filling the upper pole.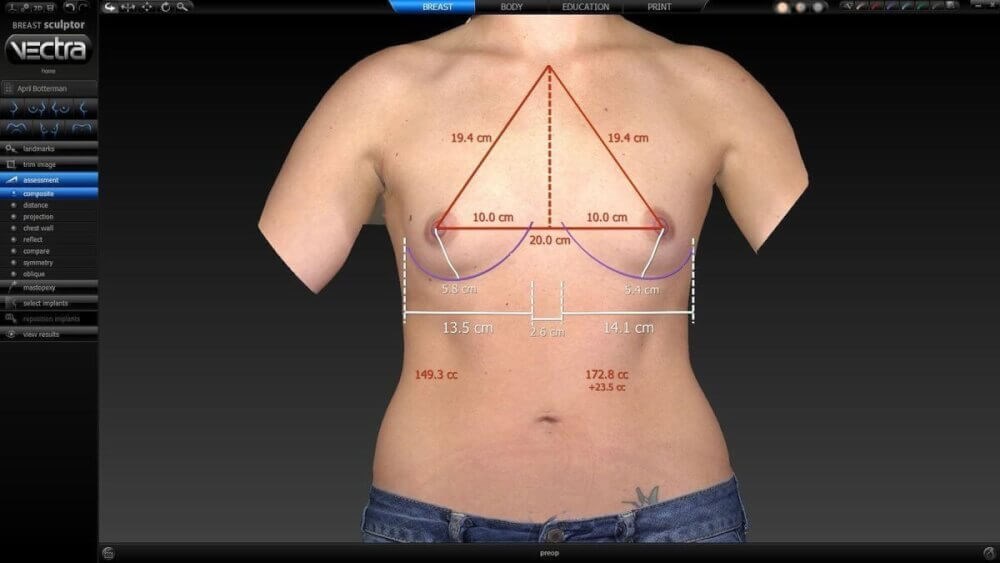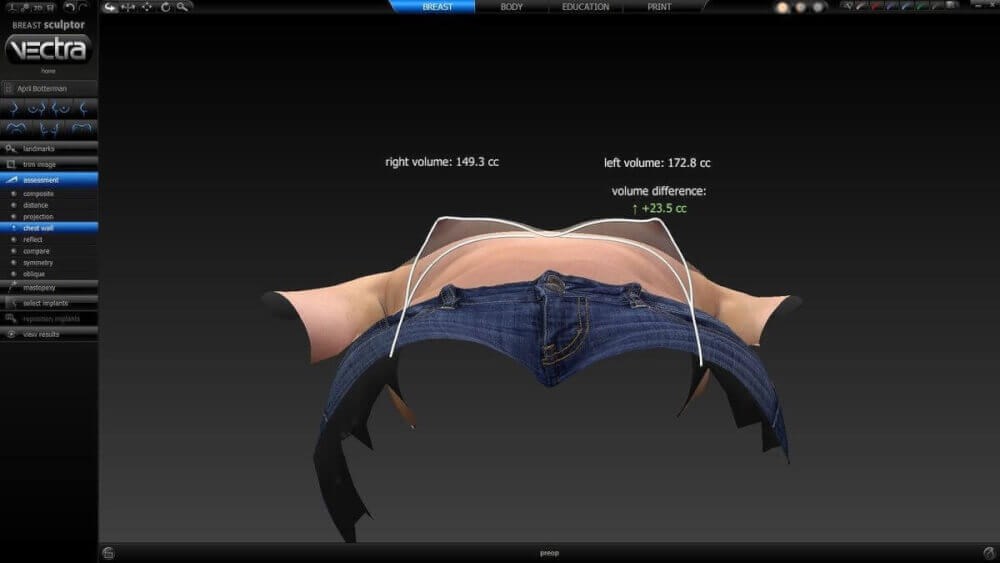 The new Natrelle Inspira and Sientra 107 silicone gel filled breast implants are even more effective in filling the upper pole.   I selected a Natrelle Style 15 371cc breast implant for her breast augmentation.  The base width of 371cc breast implant is 12.9cm.  She has more breast tissue so a narrower breast implant than her base width is appropriate.  Other implants I could have use include: Mentor MemoryGel MP+ 375cc (12.8cm), Sientra Smooth Round MP 380cc (12.8cm), and Natrelle Inspira SRM-375 (13.0cm).  I do believe these other implants would have given similar results. 371cc breast augmentation for patient B.