Breast Augmentation Scar Treatment
Breast augmentation scar treatment may help to improve your scars on your breasts.  Wound and scar healing takes time.  Immediately after surgery, your scar may have normal skin color but may be have ridges and folds.  Over a period of several weeks, you scar will start to flatten.  You will start to see your scar turn red or pink during the first few months.  As you scar matures, your scar will turn darker to a purple color usually in 3-6 months.  You scar will than fade and hopefully be forgotten in about a year.  There a variety of breast augmentation scar treatment available and I will review what I recommend.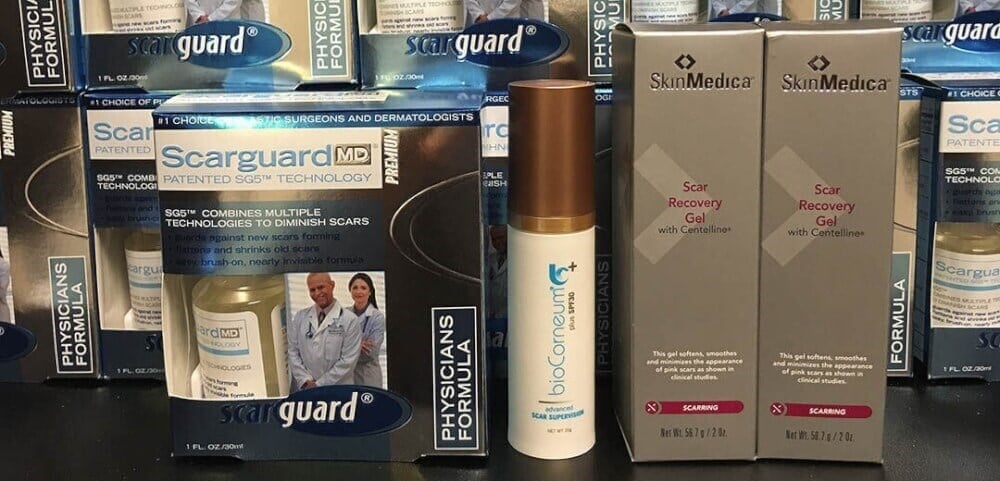 Scarguard MD is one of the most commonly recommended and commercially available scar treatment today.  It contains silicone, cortisone, and vitamins E all which have been linked to improving or helping poor scar healing.  Scarguard MD is easy to use, fast drying, brush-on clear liquid. Once dry, it is waterproof, nearly invisible and can even be covered by make-up.  It should be applied twice a day.  I like Scarguard MD but some of my patients do complain that it flakes.  Large areas can also take some time to apply.
SkinMedica Scar Recovery Gel is clinically proven to address multiple phases of scar formation, dramatically improving the healing process.  It contains Centella (plant), Oleruopein (olive leaf extract), and Bulbine Frutescens (African plant sap extract) to help improve your scars.  These herbal extract are highly effective antioxidant and promotes scar healing and hydration.  Scar Recovery Gel is applied twice a day.
BioCorneum is the only silicone gel scar treatment with SPF30 cleared by the FDA.  The silicone helps to protect and hydrate the scar which promotes healthy healing.  Biocorneum is clearly the choice for sun exposed scars.  It is also water resistant and make maybe worn over the product.
Breast augmentation scar treatment may be improved by ScarguardMD, SkinMedica Scar Recovery Gel, or BioCorneum.
Please let me help you make the best decision for your breast augmentation.  Call today for an appointment: (502)899-9979.